Arne Møller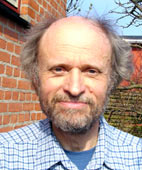 Arne Møller is a self-taught artist and has, in addition to his artistic activities, worked with illustration and teaching.
He expresses himself well in painting as well as drawing, water colour and pastel. His favourite subjects are landscapes and cityscapes. He characterizes his style as impressionistic with a naturalistic basis.
He primarily finds the motifs for the quiet and sensitive paintings
in nature. He has produced a series of images that depict the seasons in the garden. Arne Møller resides in northwestern Jutland in the summer where he is inspired by the light.