Mogens Kischinovsky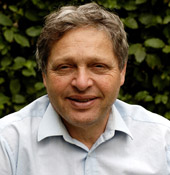 Mogens Kischinovsky made his debut at the juried Artists' Winter Exhibition in Copenhagen in 1995 and the following year displayed three installations at the Artists' Fall Exhibition. Since then, he has had several exhibitions in Denmark and abroad.
Mogens Kischinovsky's pictures evoke a smile and thoughtfulness at the same time. His preferred motif is people. With a stroke of humour he creates depth in his pictures and gives his works a dimension that transcends the motif itself. We see ourselves from without - and smile a bit while at the same time being somewhat disturbed by the absurd situation in which one seems to be caught.
After an exhibition at the SAK art building in Svendborg, art critic Iben Friis Jensen from the Funen county newspaper wrote: "Mogens Kischinovsky presents both body and mood in simple portraits / figure studies....also Kischinovsky's charcoal drawings of almost cubistic style reveal an artist with strength". Mogens Kischinovsky's pictures are painted in colourful, broad strokes - in his own distinct style.
Art critic Tove Marie Petersen wrote: "Mogens Kischinovsky paints nude studies in a very brutal and expressionistic way."
He works with painting, lithography and sculptures in bronze as well as steel.
Phone: +45 4041 6768